Can we make your KellyBoat experience perfect?
I found the perfect boat! How do I book it?
Before you can book a trip, please register an account on KellyBoat and set up your preferred payment method. By using the platform, you are covered by our terms of service.
If you need assistance with setup, the following video tutorial walks you through the process hosted by KellyBoat brand designer Travis Bragg.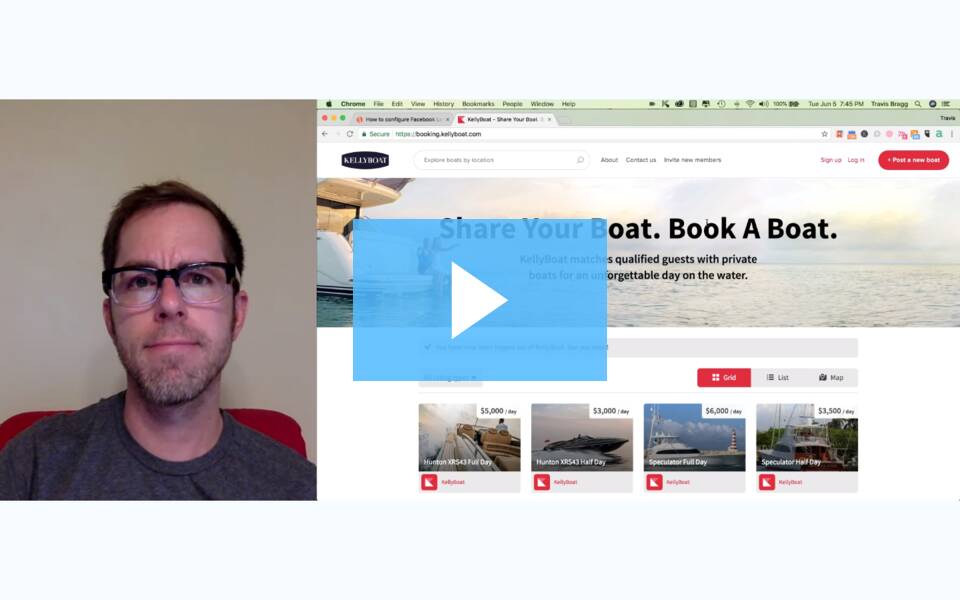 Once you have your account setup, simply choose your preferred boat, select the date of your booking, and press "Book". Your request will be reviewed by the boat owner, and once approved you will be charged. You will receive a confirmation email, and then your booking is complete!
Don't forget to post your pictures #KellyBoatCo or send them to us at info@kellyboat.com; we'd love to include shots of you having a great time on the water!
How does KellyBoat work?
Simple!
Submit an inquiry to an owner directly by clicking "Book".  Include some info about you, your group, and your details for your perfect day on the water.
If you have a question about the boat prior to booking, click "Contact" and ask your question in the field.
The owner of the listing will review your details and accept, reject or otherwise communicate with you for clarification.
Once they accept, the booking is complete, and you're all set to go!
On the day of your trip, KellyBoat will arrange details about your pickup location and logistics.
What if my request is rejected?
If your booking request is rejected, you may message the owner to see if they're open to alternative options. Typically owners will decline inquiries due to unavailability or the size or type of group does not meet their stated specifications.
You can check for alternative boat options, or submit a custom search request to the KellyBoat Crew by emailing info@kellyboat.com.
What if I need to change my request?
If you need to amend your booked trip, please reach out directly with the owner.  If the owner agrees to your changes, please let us know at 
info@kellyboat.com
 so we can update the details.
Sometimes, an owner may not be able to accommodate your change request, and in this case we can rebook you for another date, or another boat.
What if the owner cancels my trip?
If an owner needs to cancel your booking, Let us know asap at 
info@kellyboat.com
 so we can issue a refund.
It's an unlikely occurrence, and we will work with you to resolve the problem should it arise.
What if the owner cancels my trip?What if I want to cancel my trip?
Each boat owner has a published cancellation policy that you agree to upon booking. KellyBoat honors the owner's cancellation policy so please be sure to review it carefully.
Should I tip my captain?
Tipping is up to you, but 10%-20% of the charter price is customary. The choice is yours. We hope you love your captain and the experience he or she has provided, and any appreciation is always most welcome.
Tipping should be done at the end of your trip, in cash and directly to the captain. We cannot add tips to the booking at this time.
Do I need to tip the crew?
It is customary, although not mandatory. Leaving a gratuity for the work of the crew and the captain at the end of a charter tells the crew that they did a great job! We recommend 15% -20% of the charter fee. This is typically done at the end of the charter to the captain directly. 
Can I extend my trip?
At the discretion of the captain and owner, trips may be extended.  An additional fee would be agreed to and assessed for each extension.
Why can I only bring 6 guests?
This is a complex answer; it is related to USCG regulations for passenger transportation.  All the boats in our program are privately owned boats that the owners have offered to share with you for the day.  As the transport of more than 6 guests requires that the boat be subject to an extensive, lengthy, invasive and complicated process, many private boat owners haven't done so.  We hope to add more certified boats soon.
What if I like a boat that is in a nearby port? Can it come to me?
Yes, it can, at the owner's discretion.  A transportation fee would be assessed to cover the fuel consumed to move the vessel.
Can I choose the food and drink served aboard?
The food aboard is up to you, but it's BYOB. For a fabulous, custom menu, visit our partner On Island Chefs who have created a customized menu for KellyBoat guests.  A minimum of 48 hours notice is required for any meal orders. If the custom menu is not to your preference, any other arrangements can be made.  The meals will be delivered to your greeter prior to your boarding.  
Why would I register my boat with KellyBoat?
KellyBoat is the premier boat sharing platform.  We are 100% focused on safety (and fun!).  We are the only boat sharing platform that has partnered with an insurance provider; and not just any insurance provider, the #1 independent provider of marine insurance!  This is a lot of extra work, but we do it because it's the safest way to share a boat.  Joining our platform exposes your boat to our proprietary marketing algorithm, sharing your boat with hundreds of interested guests.
We are always available to help our boat owners anytime day or night at info@kellyboat.com, or please feel free to call us at 888.999.0845.
What about taxes?
Each boat owner is responsible for their own taxes.  We do not do withholdings, we do not send 1099's, W-2's or any other documents for tax purposes. We can upon request issue an invoice.  If you need one, please send your request to kerri@kellyboat.com.
If you have specific tax questions as they relate to your business and using our platform, always consult with your tax advisor. 
What if I do not want to accept a request?
You don't have to.  Each request is up to you.  If you decline a guest, please let us know the reason so we can better tailor requests to your boat.
What price should I charge?
This is totally up to you.  Our team will be happy to provide guidance for you, but the pricing of each offering is up to the owner.
We have owners who price very aggressively because they want lots of requests, and others who price quite high, to review only a few serious requests. 
What's the best way to increase bookings?
Great photos and a thorough description coupled with a well priced offering. 
What happens if there is damage to my boat?
This would be handled with your insurance provider.  Please inform them and us as quickly as possible following discovery of any damage. 
Get in touch.
We look forward to answering your questions.